Together We:
Inspire | Connect | Empower | Transform | Save Lives
That's What People of Action Do.
Eugene Southtowne Rotary
Club #341, District 5110, Chartered December 22, 1975
Southtowne Rotary in Eugene, OR has been dedicated to doing good in the world through local and international projects since our founding in 1975. With approximately 90 members, we're currently the second largest Rotary Club in Eugene, and by far the most fun!
Our Rotary motto is "Service above Self" and to honor that commitment, Southtowne Rotary has devoted countless hours and raised hundred of thousands of dollars to help create new educational opportunities for youth, distribute aid to the disabled and homeless, provide food for the underprivileged, improve outdoor and recreational living environments, and support visual and performing arts. Our service to the community takes place not only with the direct involvement by our club members but also through our monetary contributions to local scholarships and projects through our Southtowne Rotary Foundation.
We gather once a week on Thursday at noon. Contact us if you would like to join. We have interesting speakers on many topics. We receive updates on our ongoing projects and coordinate with each other about our many activities. Together we make a difference. Please check out the articles below and other pages on this site to learn more about us, and if you'd like to come to a meeting, let us know.
Southtowne News & Program Summaries…
Below you will find the most recent summaries of our weekly programs, project and event updates, and other interesting news. The full Southtowne Blog can be viewed here.
Each of the articles below is summarized. Click on the image or "read more" link to get the full scoop!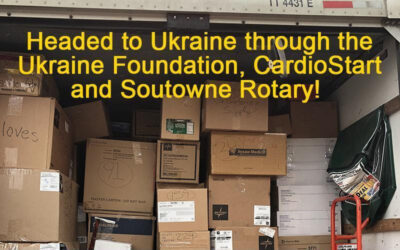 Southtowne Rotarians continue their support of CardioStart International in a joint project to send medical supplies and equipment to help the people of Ukraine. This effort has been a long term collaborative effort between several organizations. First, special thanks...
read more
Check Out The Good Work We Do In The World And Our Community…
Recent Southtowne Photos…
Below you'll find a selection of our most recent photos from Southtowne projects, events, meetings and programs.